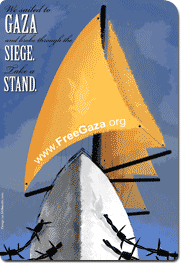 6/21/09 −
Progressive Librarians Guild
supports the Right to Read Campaign in Gaza. The right to read is realized in Article 19 to include access to information, intellectual freedom, and right to communicate. Endorsing the Right to Read Campaign is in line with the 1997 Resolution on IFLA, Human Rights and Freedom of Expression.
During the 2009 ALA Annual Conference, at its meeting on Saturday, July 11, 2009, the Action Council of the Social Responsibilities Round Table
voted to endorse
the Right to Read Campaign of the Free Gaza Movement. This campaign, initiated in partnership with Al-Aqsa University, will challenge Israel's blockade of Gaza, using boats to deliver textbooks and other educational supplies to universities throughout the occupied Gaza Strip. Other endorsers of activities of the Free Gaza Movement include Nobel Peace Prize Laureate Bishop Desmond Tutu, Nobel Peace Prize Laureate Mairead Maguire, scholar Noam Chomsky, and British MP George Galloway.
For more information about this campaign, see the
Free Gaza Movement's website
.